Project Summary
Main Features of Utrust
Utrust is a seamless integration that gives e-commerce businesses the power to accept digital currencies – for cheaper yet faster transactions

The cryptocurrency startup raised 21 million USD via an initial coin offering (ICO) in November 2017, peaked in terms of its market cap during the January 2018 bull season, but started gaining real world traction from the second half of 2018 with product launch

Integrated with the world's most prominent ecommerce platforms, connecting to millions of websites and over 300,000 merchants across the globe

Potential market size by 2024
At the time of writing, UTK token specifications are as follows:
Current market cap (MC): $59.2M

Circulating supply (CS): 450M UTK

Total supply (TS): 500M UTK

Token distribution as illustrated (Figure 2)



Utrust Team
The founding members of Utrust are:
Utrust Ecosystem
Integral parts of the Utrust's ecosystem are presented in Figure 3, namely the key investors, partnerships, networks, crypto wallets, and exchanges/liquidity providers for the UTK token. Each of these plays a significant role in the overall success of the Utrust platform.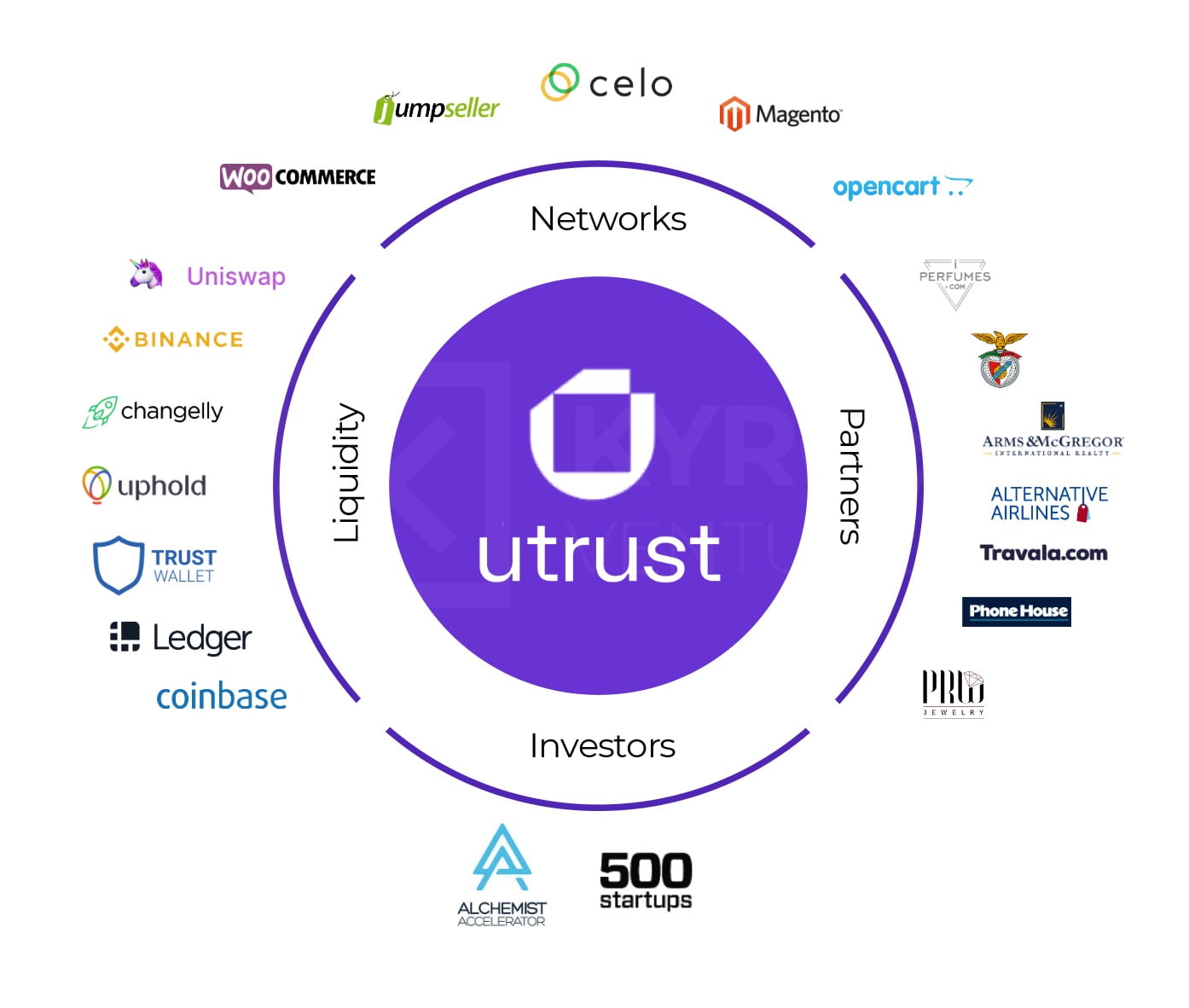 A more exhaustive list of Utrust's commercial partnerships includes:
Utrust's industry network encompasses the following well-established brands:
Alliance for Prosperity

: Includes FinTech companies, and non-profit and humanitarian aid organizations, with prominent industry giants such as Andreessen Horowitz and Coinbase. Utrust's role within the alliance is to ensure adoption and to make its technology available to everyone

WooCommerce

: WordPress and its WooCommerce plugin serve 3.876.748 webstores. Over 30% of all online stores run on WordPress. 35% of the Internet is powered by WordPress. WooCommerce powers 22% of the world's top 1 million ecommerce sites

Magento

: Magento is the largest and the most important ecommerce platform in the world, and they are a part of the Adobe family. Boasting over 250.000 merchants worldwide, Magento represents about 12% of the marketplace and has handled $155 billion of gross merchandise volume in 2018
Utrust's investors enable its long term vision to become reality. The key investors include:
Alchemist Accelerator

, a San Francisco based venture-backed accelerator focused on the development of seed-stage ventures that monetize from enterprises (B2B). Alchemist Accelerator has invested in 508 deals and made 31 exits. Some of its notable portfolio companies include MightyHive, Byte Foods, and Stories. According to Crunchbase, CB Insights rated Alchemist as the top accelerator in 2016 with the total funding of its graduate startups close to $800 million

500 Startups

: a world renowned flagship accelerator present in over 75 countries with investments in more than 2,400 startups.

Pitchbook

recognizes it as the most active VC globally in exits and the most active global investor by VC deal count in 2019

Utrust raised a total of $21 million during their ICO in November 2017 with a public sale token price of $0.065. While the token reached its ATH in January 2018 and depreciated with the bear market thereafter, UTK token price is still at +100% vs the ICO price (x2)
UTK Token Ownership
Figure 4 shows changes in the proportion of UTK token holders, cruisers and traders. Hereby, holders are considered as the wallets that did not trigger any UTK token movements for more than 1 year, whereas cruisers and traders represent the wallets that hold the UTK token for 1-12 months and less than 1 month, respectively. 
For the last 12 months, we can observe the shift in UTK token distribution from long-term accounts to short-term accounts. In particular, around 1200 new cruiser accounts and 1500 new trader accounts have reduced the proportion of holders to nearly 76%, down from almost 89% one year ago.
The shift indicates a higher activity level of the Utrust community compared to the same period last year.
Comparable Projects
Crypto-to-fiat processing is no longer a green field since more and more payment processors are joining the market, a few of the prominent ones including Bitpay, Crypto.com and Swipe.
Compared to Paypal, the world leading payment processor with a market cap of over $195 billion, Utrust provides cheaper transaction fees and higher efficiency. Furthermore, Utrust has been continuously expanding its merchant network, with integrations to major e-commerce platforms like Woocommerce, Jumpseller, Opencart and Magento paving a pathway to mass adoption.
When compared to Swipe, Utrust provides slightly better fee rates for both its consumers and merchants while both companies provide support for 30+ cryptocurrencies. Furthermore, Utrust fosters a superior user experience with full customer protection including a dispute resolution mechanism akin to Paypal's and performance-based rating of merchants which allows the consumers to opt for reputable brands.
Figure 5 summarizes the abovementioned differences and similarities between Utrust, Paypal and Swipe, highlighting the Utrust's competitive edge in this niche. Thus, in the long term, one could expect a much higher market capitalization for Utrust considering the size of the market and the fact that both Paypal and Swipe have higher valuations at present.
Upcoming News and Development Progress
Token Release Schedule
Utrust has a fixed cap of 500,000,000 UTK on total supply. Currently 90% of all UTK tokens have been distributed. The rest, 50 million UTK tokens, have been locked for 5 years at ICO (November 2017). Thus, as stated in the whitepaper, full distribution will take place in 2022.
Thus, as the crypto market and overall adoption grows, we may expect to reach a new market cap milestone in 2022 when the project unlocks all of its tokens. It is important to note that, unlike a lot of the low quality projects in the crypto space, Utrust is designed to thrive with the overall cryptocurrency adoption rather than as a single entity.
Development Roadmap
Automation: Launched successfully

A stable coin and new merchants: Onboarded USDT

Staking, Cashback and Merchants Referral Program: Launched Utrust Wallet

"Building 2021"

: the final quarter of 2020 will be focused on reflecting on the previous quarter, growing the platform, building the ecosystem and adding more features to existing products

Beyond 2020: Utrust prides itself in being a company with a clear vision for the future, and all the tools to ensure it happens. As we enter a decade where digital currencies will become mainstream, Utrust has every intention of being a leader in this revolution
Reasons to be Bullish
There exists a huge amount of potential for a blockchain-based payment processor to grow and compete with traditional giants like Paypal and Stripe, whose market capitalization exceeds $230 billion in total. Meanwhile, the total valuation of the top crypto-fiat payment processors including Crypto.com, Swipe and Utrust is just over $3 billion at the time of writing

The inevitable development and adoption of central bank digital currencies may foster cryptocurrency adoption as a whole. Until then, the abovementioned crypto-fiat payment processors will have a competitive advantage and traction associated with being the pioneers in the industry

During the first three quarters of 2020, Utrust has established more partnerships (18) than in any other period, since inception

Strong growth of the Utrust ecosystem and its global network of merchants will drive a higher total payment transaction value whereby the higher the transaction fee Utrust collects, the more UTK token will be bought back and burned permanently thus removing it from the total supply. This will only boost the UTK token price due to the supply and demand dynamics

Novel UTK token utilities such as cashback, loyalty reward, and coupon redemption, in addition to the current transaction fee payment utility, will help nurture a healthy ecosystem growth over the long term
Factors to Watch
Paypal's potential adoption of cryptocurrency transactions is the top concern for Utrust

Possible exchange hacks such as the recent KuCoin incident may slow Utrust's rise. Fortunately, Utrust team acted promptly and fully protected the token holders within two days by issuing a new UTK token equivalent while rendering the previous UTK token useless. Nonetheless, other crypto-to-fiat platforms got compromised in the past, for instance

Eterbase

– a European bank-grade digital asset exchange that allows SEPA payments in their users' personal IBAN accounts.
Executive Summary
Projection Milestones
Note: This projection evaluation method considers both the UTK token price and the UTK circulating supply as variables. This is an accurate representation since both are subject to change over time.
Figure 6 presents the timeline for two possible scenarios determining the potential UTK market cap in the future:
Until 2021, projected circulating supply will stay around 450M UTK (90% of the total supply); UTK price can, at least, gain 50% (x1.5) and surpass Swipe's current market cap

At full token release, the circulating supply will be 500M UTK; UTK token price may potentially reach new ATHs in range of $1.5, assuming adherence to the development roadmap
Concluding Remarks
The Utrust's innovative e-commerce solution seems like a necessity if the cryptocurrency mass adoption is to occur. The Kyros Research team is bullish on this project, and we believe that the crypto enthusiasts and investors alike will also be able to understand its potential. Taking into account Utrust's favorable metrics versus comparable projects with a higher market cap (e.g. Swipe), we would be extremely surprised to see this token stay under $0.16 during the tail end of 2020.While short term price estimates are difficult to establish due to the volatility of the crypto markets, we expect to see the UTK token price soar to $0.3 – $0.4 in the mid-to-long term, giving it a circulating market cap in the vicinity of $180M. 
Even higher token price milestones are feasible in the long term, our most bullish prediction exceeding the previous ATH at full token release, with Utrust potentially becoming a $1B+ company thereafter. Taking into account the total market capitalization of Paypal and Stripe ($230B+), Utrust undoubtedly has plenty of room for growth.