Project Summary 
Main features of FinNexus 
FinNexus is a next-generation DeFi "

supermarket

" which enables a global audience to  discover and use decentralized finance products in a frictionless and intuitive manner.

The flagship product is the FinNexus Protocol for Options (

FPO

), which features the world's first Multi-Asset Single Pool (MASP) in addition to decentralized and permis sionless option writing, trading, and exercising. 

FPO is designed to be

multi-chain compatible

, including with Ethereum, Wanchain, Elrond, XRP Ledger, and KardiaChain.

Uniswap Liquidity Mining program currently ongoing (

226.2% APY

at time of writing).
FinNexus Product Suite 
FinNexus Protocol for Options (FPO)

is a permissionless, censorship-resistant, and non-custodial protocol that enables anyone to write, trade, and exercise options. FPO is the first protocol to feature a Dynamic Margin Mechanism that enables the minimum  collateral to back an option to change with price fluctuation. All transactions are on

chain, and FinNexus also enables multi-coin collateral, cross-chain transactions, and  infinite liquidity for options.
Multi-Asset Single-Pool (MASP) DeFi options model –

FPO platform's liquidity is  pooled together into a single monolithic pool, which acts as the sole counterparty writing, trading, and exercising options. The MASP feature ensures that users do not have to  worry about the availability of enough liquidity.
FNX Liquidity Mining –

Options writers will be incentivized in several ways, including  the distribution of FNX tokens as rewards regarding minting and trading volumes on the FinNexus options platform once it goes live. In the future, FinNexus will provide a collective pooled model, using FNX as the major collateralized asset, to mint both call and put options, with multiple underlying assets. The pool will be acting as both the mint

ing collateral pool and liquidity pool for the creation and transaction of options. The holders of the pool will be granted pool share tokens. Risks and rewards will be shared among the pool participants.
Wandora Box

– The first decentralized prediction game to launch on Wanchain.

Jack's Pot

– A no-loss lottery game built on Wanchain.

UM1S

– a real asset-backed token with a fixed rate of return. 
FinNexus Founding Team

 
Boris Yang, Founder & CEO. Boris is a former Vice President at Wanglu Tech, co founder of Wanchain, and the leading designer of Wanchain's technology stack. Boris has  many years of experience in internet startups and is a serial entrepreneur. Boris holds  degrees in finance and law from Beijing's University of International Business and Economics.
Bob Chen, Co-founder & CTO. Bob has worked as a technical expert for internet giants  such as Alibaba and Qihoo 360. He has developed an asset management wallet within the  blockchain industry, specializing in blockchain asset security management, high concurrency applications, and high-frequency quantitative trading. Bob graduated from  the Harbin Institute of Technology.
Ryan Tian, Financial Specialist. Ryan has worked as an investment banker at a well known securities company and led IPO, SEO, and M&A projects. Having worked in the  financial industry for more than ten years, he specializes in securities products and  financial and risk control. Ryan has a Masters in Finance from the University of York.
Jack Tung, Regulatory Compliance Specialist. Jack is a senior FinTech consultant with  more than ten years of experience in asset management services for high net worth  individuals. He specializes in framework design for asset management compliance and  architecture design for financial enterprise compliance.
Veerender Singh, Community Manager. Veerender is an experienced community mana ger in the blockchain space, currently serving as a Community Manager for MANTRA DAO, and is the Editor and Business Development Manager for blog.goodaudience.com 
FinNexus Ecosystem 
Integral parts of FinNexus' ecosystem are presented in Figure 3, namely the founding partner Wanchain, enterprises, DeFi partnerships, and crypto exchanges/liquidity providers for the  FNX token. Each of these plays a significant role in the overall success of the FinNexus platform.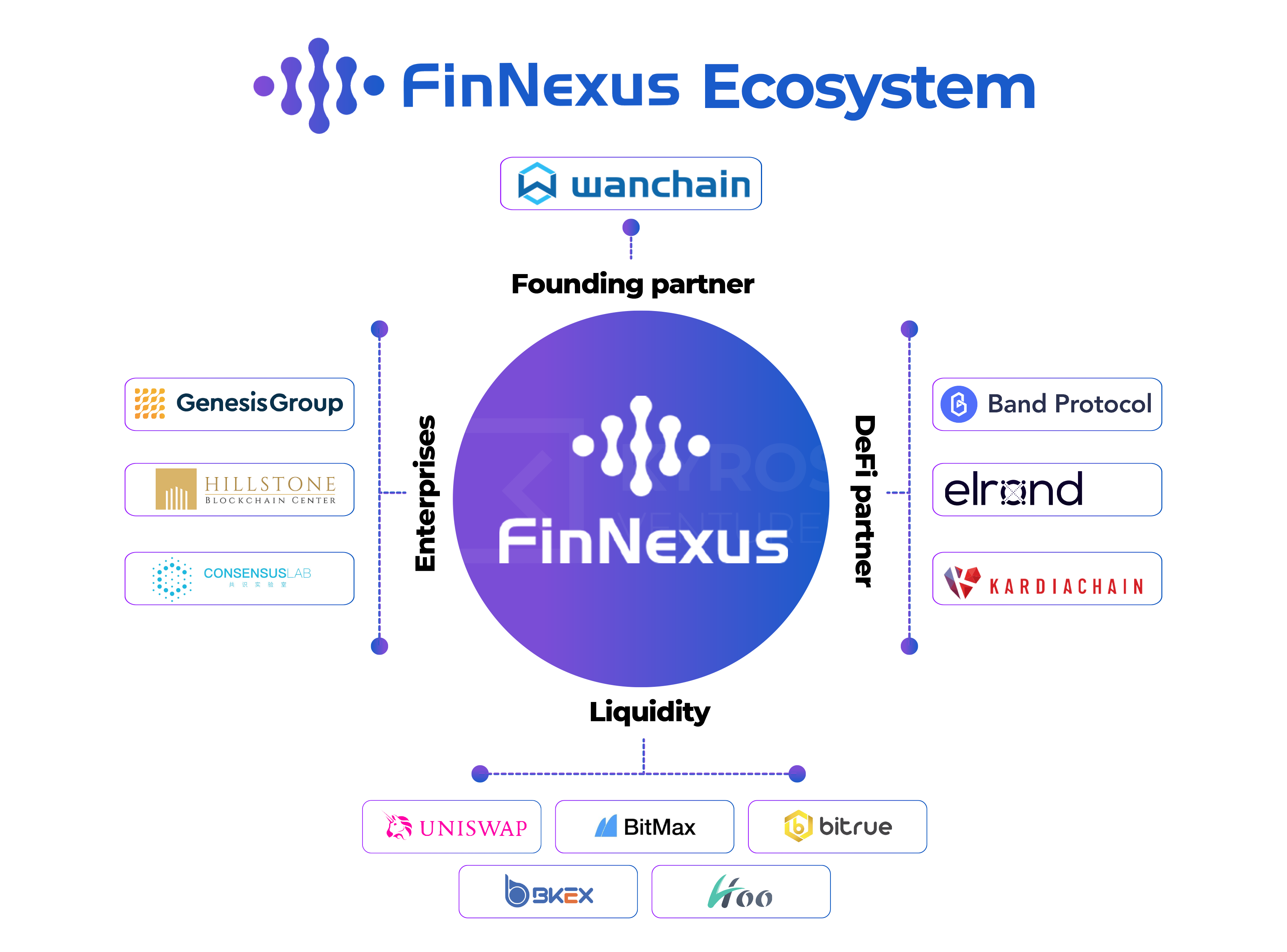 Strategic Partners:
Wanchain

is an innovative public blockchain project which has made advancements in privacy protection, cross-chain integrations, multi-asset transactions, and proof of stake consensus mechanisms. Wanchain's team will provide comprehensive technical support  for FinNexus.

SuperAtom

is a Southeast Asian-based FinTech company aiming to make financial services more accessible for the masses. SuperAtom is incubated by New York-listed Cheetah Mobile and will work together with FinNexus to tokenize financial products, which will provide stable investment returns.
A more exhaustive list of FinNexus' cryptocurrency industry partnerships include: 
Band Protocol –

Band Protocol is a cross-chain data oracle platform that provides reliable and real-time price data and is a backbone for the truly secure and decentralized financial products that FinNexus provides. 

Chainlink

– FinNexus has integrated Chainlink's price feeds to power the FinNexus Protocol for Options platform. 

Elrond –

FinNexus is planning to build a version of its unique multi-asset single-pool (MASP) DeFi options model on Elrond, an open source blockchain platform with high output and execution speeds. 

XRP Ledger

– FinNexus has announced plans to bring real-world assets to the XRP  Ledger and connect the passionate XRP fanbase with the exciting world of DeFi.

KardiaChain –

KardiaChain will operate the first fully decentralized and interoperable blockchain ecosystem in Vietnam. FinNexus is exploring the potential to develop DeFi  services on the KardiaChain mainnet. 
FNX token's liquidity:
FNX token is currently listed on five exchanges: BitMax, BKEK, Bitrue, Uniswap, and Hoo.com. The corresponding volume proportions are depicted in Figure 4. 
Enterprise partners and investors include: 
Consensus Lab:

an APAC VC aims to empower inspiring projects in the blockchain space. Since 2018, the firm has 21 investments in prominent blockchain and crypto  companies, a few of which are the FTX exchange, CertiK, QuarkChain and BlockCloud.

Genesis Group:

A Hong Kong-based veteran crypto venture capital having 20 invest ments in the field over the past few years. Some projects under their portfolio include Quarkchain, Pchain, and Edenchain. 

TRG Capital:

An Amsterdam-based seed-stage venture capital firm. The firm's focus  area is startups fundamentally disrupting digital assets' global transfer, mainly Layer2

solutions and startups decentralizing finance (DeFi). Notable projects in its portfolio include Polkadot, Kava, Frontier, Avalanche, Zilliqa, and Solana.
FNX Tokenomics 
APY token specifications are as following: 
– Current market cap (MC): 1.3M USD 
– Circulating supply (CS): 13.7M FNX 
– Total supply (TS): 500M FNX 
– Token distribution as depicted in Figure 5 
At the time of writing, FinNexus' fully diluted market cap is US$64.7 million. Note that  28,036,823.22 FNX tokens have been converted 1-for-1 to UM1S, a real asset-backed token with a fixed return rate. More data on FNX distribution can be found at the FinNexus site. 
Token Utilities
Collateral for writing options and liquidity for exercising options within the Multi-Asset Single Pool (MASP) for the FinNexus Options Protocol (FOP) 

The medium of exchange to buy and sell options on the FOP 

Uniswap Liquidity Mining currently ongoing 

Right to higher rates of return on tokenized products 

Rights to invest in tokenized products with lower cost 

Discount on transaction commissions 

Derivative rights, like early settlement, resale, or interest swap 

Benefit from FinNexus's development
Comparable Projects 
FinNexus ultimately aims to be a multi-blockchain DeFi ecosystem and protocol and is commencing with the 'unsolved' use-case of a decentralized options and derivatives trading platform. FinNexus Protocol for Options (FPO) has a strong case for becoming the dominant decentralized options and derivatives platform: 
Multi-chain compatibility

including but not limited to – Ethereum, Elrond, XRP Ledger, KardiaChain and Wanchain. 

Infinite liquidity

via the Multi-Asset Single-Pool (MASP) mechanism.

The

dynamic margin model

enables the same collateral to write multiple options when options prices move further out-of-the-money. 

An intuitive and visually appealing user interface supports the above features, leveraging user experience to the next level.
Upcoming News and Development Progress 
The team is currently working to create synthetic assets, including stocks, bond, and exchange-traded funds.

FinNexus Protocol for Options is aiming to

provide universal support

for any underlying asset and develop further protocol layers to empower users to hedge, speculate  and insure their digital assets, including Blockchain Interaction Protocols (BIP), Protocol Cluster for Assets Payments (PCAP), and an Assets Distribution Protocol (ADP).

Staking mechanism

in development to provide staking users with higher returns and lower transactions costs, and provide further security to the FinNexus network.

The FinNexus is focused on developing further partnerships with public blockchains and more real-asset-backed tokens.
FNX Token Release Schedule 
Figure 8 depicts a detailed schedule of how the FNX tokens are released into circulation over three years. The team estimates that around 90 million FNX tokens will be injected as the vesting periods are completed. 
Reasons to be Bullish 
Despite the recent correction of the decentralized finance (DeFi) bubble, total value  locked (TVL) in DeFi protocols continues to steadily grow from USD$700 million at the start of 2020 to USD$12 billion as of 24 Oct 2020 (as reported by

Defipulse

). The next frontier for DeFi is decentralized options and derivatives, a multi-trillion-dollar market that remains untapped, and FinNexus is firmly positioned to be a market leader in this segment. 

A strong and ardently passionate team with combined decades of experience in technology, finance, FinTech, and blockchain industries.
Factors to Watch 
More popular exchanges branching out into DEX options is one of the greatest threats to FinNexus. Examples of such events would be Binance DEX launching its options trading or, most likely, Synthetix announcing its trading platform for options.

One of the rising DeFi segment concerns is smart contract security. Over

62 million USD

worth of assets were lost in several DeFi attacks by hackers in 2020, with the most recent and significant case being Harvest Finance. Such hacks are an emerging alarm for the industry in general and options trading operators like FinNexus.
Executive Summary 
Projection Milestones 
Note: This projection evaluation method considers both the FNX token price and the FNX circulating supply (CS) as variables. The method is an accurate representation since both are subject to change over time. 
Figure 9 presents the timeline for different scenarios determining the potential FNX market cap in the future: 
From May 2021, projected CS would be around 30M FNX (6% of total supply); FNX price can potentially x2-3 with the full launch of crypto options products

∙

From the second half of 2022, projected CS would be around 67M FNX (13.4% of total  supply); FNX price can x5-7 and surpass Hegic's current market cap (MC).

In Q3 2022, the FinNexus team predicts their token's circulating supply will reach around  87M FNX (17.4% of total supply); We expect the project to provide universal support  toward its options protocol and add more underlying assets (commodity, stocks). FNX  price can x10-12 and reach the top 100 largest cryptocurrencies by MC.

At full token release, CS will be around 460M FNX (note that 6.12% of total supply was  burned); FNX price may potentially reach the x15-20 range ($1.5 – $2 token price) assu ming adherence to the development roadmap. 
Concluding Remarks 
The FinNexus platform has caught the attention of the Kyros Research team. We are bullish on this project and believe that the investors will also be able to see its potential. Considering FinNexus's favorable metrics versus comparable projects with a higher market cap (e.g. Hegic), we would be astonished to see this token stay under $0.3 during the next 6-month period.
While short term price estimates are difficult to establish due to the volatility of the crypto markets, we expect to see the FNX token price soar to an ATH of $0.7 – $1 in the mid-to-long  term, giving it a circulating market cap in the vicinity of $90M. Even higher token price milestones are feasible in the long term, with our most bullish prediction approaching $2 at full token release.