The record was set
On March 11, 2021, a digital artwork named "Everydays – The First 5000 days" was sold for $69 million and made Beeple, the painting's creator, own one of the top 3 most expensive auctioned artworks of any artist currently alive.
Within the past few months, the emerging world of NFTs has accelerated rapidly to reach new heights of success due to the increased uptake from the blockchain community, talented artists, celebrities, and athletes worldwide all hoping to make their mark on this digital frontier. Recently, the two most prominent crypto exchanges – Binance and FTX, have announced the launch of their NFT marketplaces. 
These findings show that NFTs are becoming widely acknowledged and are constantly growing. However, it must also be questioned whether NFTs are a  "here to stay" trend and will it become the breakthrough technology that brings crypto and blockchain to the masses? Let's delve into the big picture of the current NFT ecosystem to get a better understanding as we enter a new era in NFT Blockchain Technology.
NFT market overview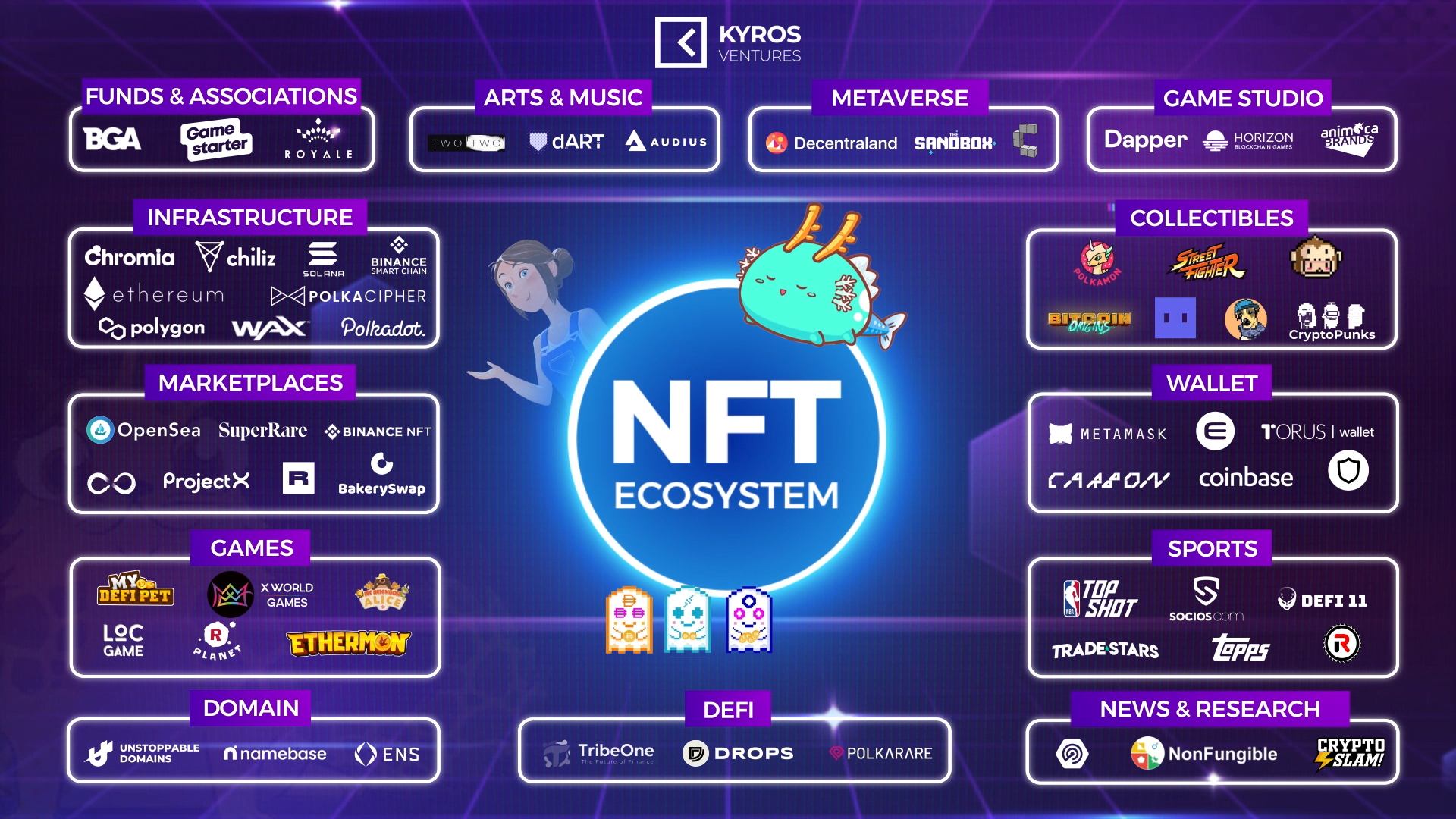 Figure 1: NFT Ecosystem
An NFT (Non-Fungible Token) is a unit of data held on certain blockchains like other tokens but is individually unique and not interchangeable. The original concept for NFTs dates back to 2015, but it wasn't until 2017 when the first projects began to appear on the Ethereum blockchain under the ERC-721 standard. Over the next two years, more NFT standards were accepted and utilized. 
NFT can represent various physical assets such as photos, videos, audio, paintings, or any kind of digital data. Thus, NFTs help to transform data into verifiable assets that are easy to trade on the blockchain.
An NFT is dynamic as it is made up of various segments, as displayed in Figure 1.
Infrastructure: blockchain protocols used to restore and transfer NFTs
Gaming: Games using the NFT standard. These include role-playing strategy games, trading card games, or any fun-based gaming experience incorporating NFTs
Metaverse: Parallel digital universes which offer a set of unique experiences to users
Arts & music: Projects featuring famous artists or musicians to generate digital masterpieces
Sports: This features personalities from the world of sport most often connected with real-world players and teams such as Formula 1 teams, football clubs, basketball teams, etc.
Collectibles: Project whose primary function is to issue collectible items intended to be collected
Marketplace: Platforms to buy, sell and auction NFT
Domains: It consists of unique domain names created on the blockchain
Others: NFT Wallet, NFT Defi, NFT-focused fund, and NFT News and Analytics.
Market capitalization
Market Capitalization represents the total value of assets present in a market. The NFT ecosystem has had an explosive development over the past year. The video below will show a visualization of this growth.
#NFT movements are constant & liberating, with a total MC of 17,472,632,131 as of June 4, 2021! 💪@Theta_Network is currently in the lead, but other gems like @enjin @Chiliz @decentraland @bakery_swap or @flow_blockchain are creeping in fast. pic.twitter.com/PWZzk7zCar

— Kyros Ventures (@KyrosVentures) June 10, 2021
NFT in details
Infrastructures and Game studios
Currently, Ethereum is still the leading blockchain protocol for NFTs as it hosts the highest number of projects, with over 50 currently running on top of it. WAX, a fork from the EOS blockchain, ranks second with more than 35 projects. New blockchains entering the space are BSC, Polygon, and Flow. It worths mentioning Chiliz, which is fully dedicated to the sports fan token segment.
Despite its dominance, Ethereum's transaction fees remain a persistent problem as it tends to skyrocket far too regularly. Today, performing any transaction on the network can prove rather costly. Users will have to pay approximately $21 for each transaction which is much higher than other blockchains such as Binance which costs approximately $0.45, Flow $0.02, Polygon $0.0001, and WAX which has no gas fee.
Figure 3 also displays major NFT gaming studios and their products. They have more potential than other kinds of segments within the NFT ecosystem to engage with your everyday normal people. Thanks to the solid base of many blockchain protocols, game creators now have more opportunities to leverage their products through this technology. Recently there have been some big blockchain-focused game studios that have entered the current market including Dapper, Animoca Brands, LucidSight, and EverdreamSoft (Figure 2)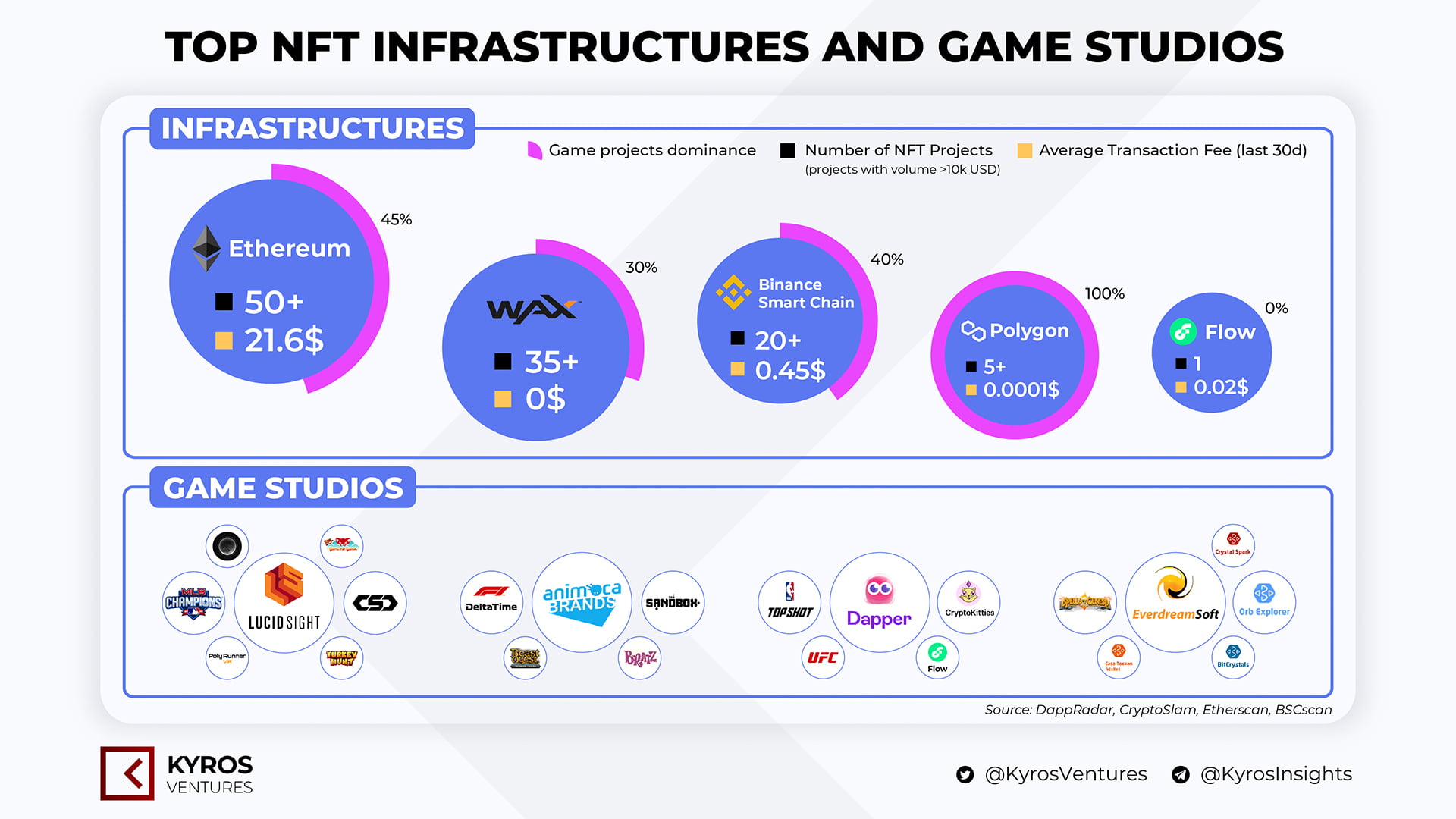 Figure 2: Top NFT Infrastructure and Game Studios
Games and Metaverses
From the gaming market's standpoint, this market reflects a mature segment that is well developed yet still looks favorable with a high probability for significant growth in the coming years. In addition, this segment has rapidly driven the growth of the NFT ecosystem and now has very compelling liquidity of its assets. 
Currently, the most played game on Ethereum, Axie Infinity, is continuously evolving by adding new features and game modes. Developed by Sky Mavis – a Vietnamese game studio, Axie has attracted thousands of newcomers to blockchain technology from developing countries with nearly 90,000 active wallets and about 22,000 daily users. However, it is God Unchained that currently holds the highest sale value of $22 million while the number of sales reached 569,561 in total (figure 3).
Besides the gaming industry, the more established Metaverses focuses on virtual world-buildings and in-game experiences. Decentraland is currently leading this segment as its sale values account for $62.2 million, making up 58% within its whole market. Despite its dominant position, Decentraland is confronted with challenges by other players like The Sandbox and CryptoVoxels. They offer a vast array of supporting assets to the market including names, wearables, and various objects in the form of ERC-1155 tokens.
Figure 3: Top NFT Projects in Games and Metaverses
As reported by Newzoo's global games market research, by the end of 2021 there will be approximately 2.9 billion gamers worldwide. Blockchain technology, via NFT's, gives property rights to gamers. For the first time, gamers can now take ownership of the digital assets they acquire in games. This is enormous as it represents the final stage in the evolution of free-to-play gaming. As gaming is the largest entertainment medium globally with a consumer audience almost as big as the global population, NFTs can leverage this fertile land to bring mass adoption into the blockchain space. A few names to watch: My Neighbo Alice, Derace, X World Games, My Defi Pet, and Ethermon.
Collectibles, Art, and Sports
NFTs peaked in sales on May 3 when $102 million worth was sold in a single day. And the crypto-collectibles market made up $100 million of those sales. Figure 4 illustrates this exciting upshoot in the NFT ecosystem and presents a compelling argument for a very fruitful future for NFT Arts, Collectibles, and Sports.
NFT collectibles like CryptoPunks, Meebits, and CryptoKitties have so far proven to be the most resilient assets and are still the largest of the seven markets ranked by NonFungible.com. Data collected in Figure 5 shows that CryptoPunks still reigns in sales with a value of nearly $400 million and $25,532 in average transaction volume which is far ahead of the other two competitors.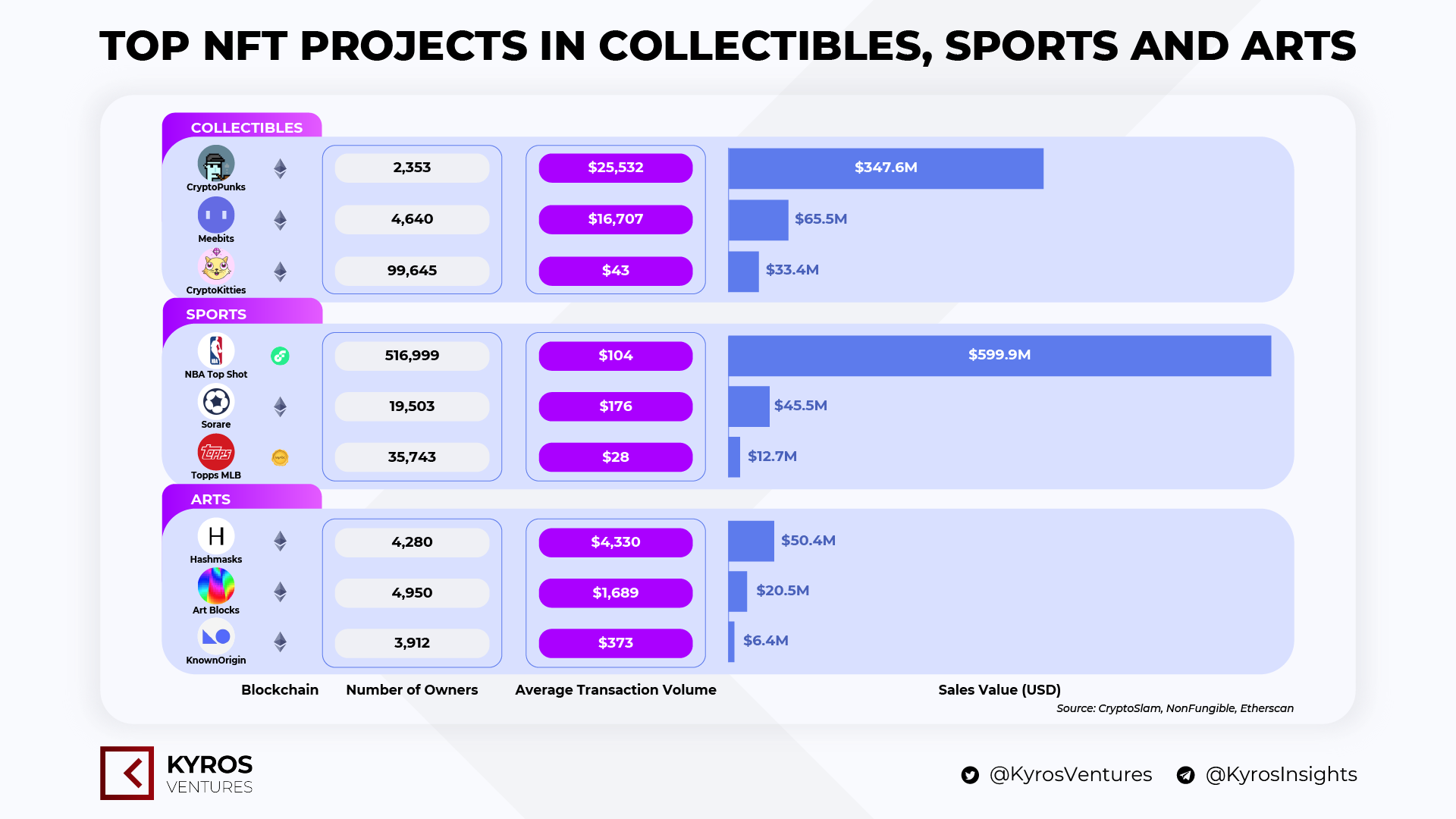 Figure 4: Top NFT Projects in Collectibles, Sports, and Arts
The Sports segment has all the hallmarks of a growing platform in its infancy whose development looks very promising over the next few years, with buyers showing increasing interest. The total sales value of assets traded is exploding having almost reached $600 million, which is surprisingly exceeding the Collectibles segment. The top three contenders of the Sports segment are NBA Top Shot, Sorare, and Topps MLB.
From the NFT Arts perspective, the market still remains very limited. At the moment a common pattern amongst buyers is to build a collection and they are here for the long run. The most prominent in this segment is Hashmasks with the highest sales value of $50.4 million, followed by Art Blocks and KnownOrigin with $20.5 million and $6.4 million respectively.
According to the annual Art Market Report from Art Basel and UBS, the traditional art market is worth about $50 billion in 2020 and has reached new heights in 2021. Although the NFT art market volume is still relatively small compared to this, it has a lot of room to grow in the future.
Marketplaces
The marketplace is the backbone of every ecosystem, and its development explicitly reflects the general landscape of NFT ecosystems and the particular segments in it.
Figure 5 points out that at this moment, Ethereum is still the top NFT blockchain. In particular, OpenSea outperforms the rest of the market, capturing $48.5 million in sales volume with more than 22,000 users in the last 30 days. However, Binance Smart Chain with its minimal transaction fees and speed of transactions has allowed BakerySwap, AirNFTs, and Treasureland to push the limits of the NFTs capabilities so much better. It is also an omission not to mention WAX which is labeled the "King of NFTs brand." It is now working towards a fairer and more equitable NFT ecosystem that can allow the general public to collect affordable NFTs. The users of WAX are giant compared to any other blockchains in the marketplaces accounting for nearly 420,000.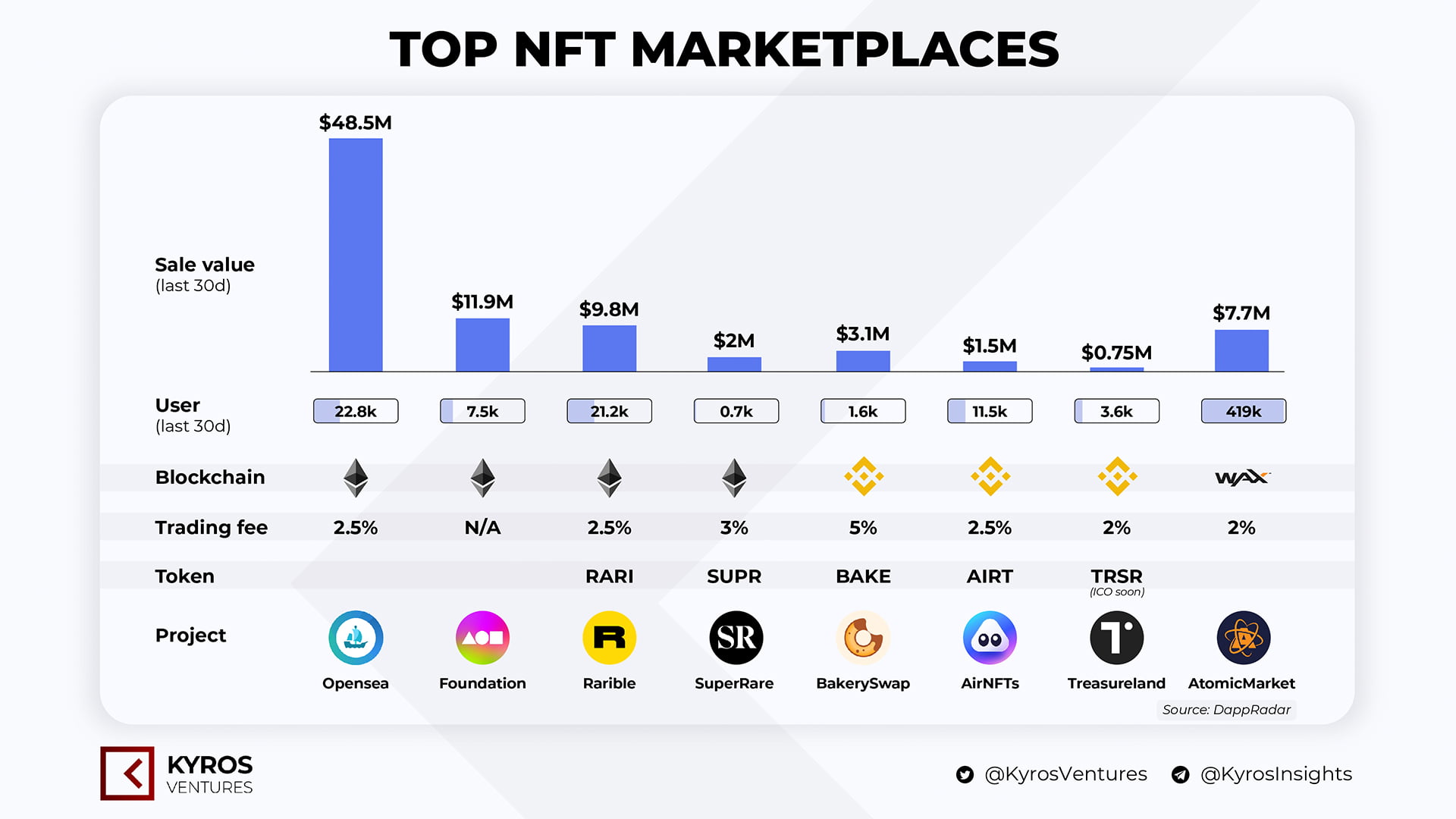 Figure 5: Top NFT Marketplaces
Domains
This segment presents a great diversity of projects and uses cases; however, one should notice that the segment is mainly driven by the Ethereum Name Service, Unstoppable Domains, and Handshake. 
The context of these projects and their markets, with the sheer numbers and remarkable names, can explain their constant growth and expansion through all the NFT ecosystems. As demonstrated in Figure 6, millions of domain names are registered on these platforms with more than $10 million in sales value. ENS takes first place with $7.01 million calculated at the beginning of June 2021. Nonetheless, Handshake has acquired more names registered than the rest of the market, gaining around 53.7% overall. 
The ecosystem of these domains is highly diverse, ranging from wallets and browsers to exchanges and other kinds of applications. However, ENS once again proves its dominance and popularity with 231 integrations, quadrupling Unstoppable and being nearly twelve times bigger than Handshake.
In line with ReportLinker, the global domain names market is forecasted to reach 512.3 million domain names registered by 2027. This number is tremendous and if NFT domain names can take only 5% to 10% of the market share, the whole NFT domains market will grow more than twenty times compared to today.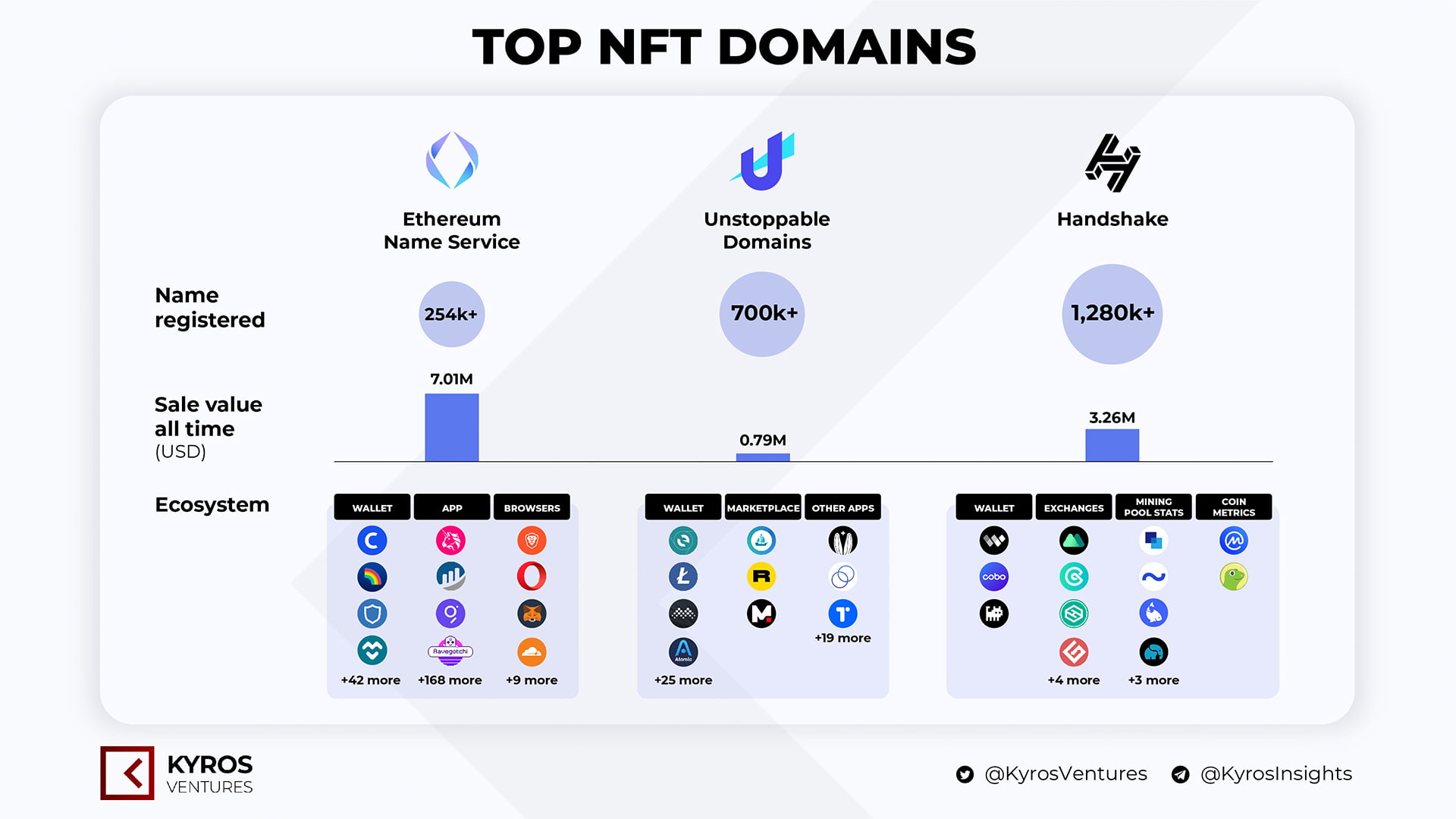 Figure 6: Top NFT Domains
Binance NFT
The NFT sector on Binance Smart Chain is still in its infancy with consistently increasing growth and adoption which is closely followed by global companies around the world. And recently, Binance, the world's largest crypto exchange, has launched its own NFT marketplace on the 24th of June 2021. As stated, this marketplace "will bring together artists, creators and crypto enthusiasts from around the world," and it will then " become the premier destination for NFTs and digital collectibles across mediums, from visual arts and gaming to music and sports." 
We had a sneak peek at the first iteration of the Binance NFT marketplace on launch day, displayed in Figure 7.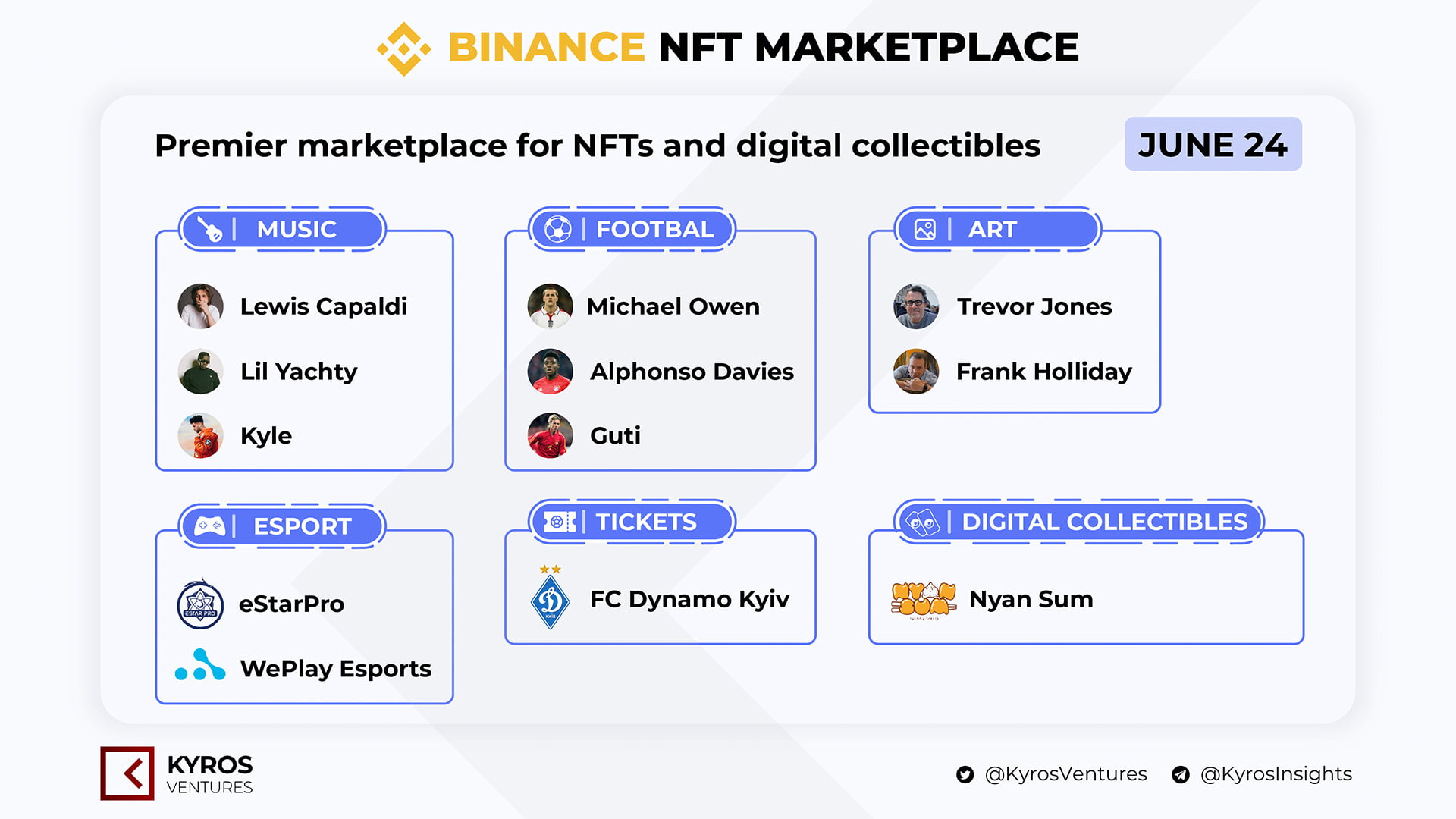 Figure 7: Lineups at Binance NFT Marketplace on launching day 
With the weight it possesses in the space, Binance is predicted to form a new trend in the market. And one day, when unique and irreplaceable assets are issued as NFTs on the blockchain and globally adopted, these names in Figure 8, with their partnerships and developments on BSC, could make several remarkable achievements.
We are all waiting to see the long-term evolution of this new ecosystem after this exciting start.
Figure 8: NFT Projects on top of Binance ecosystem
Where will it go and What awaits us?
The Non-Fungible Token industry is an extremely young sector rapidly expanding in trading volume, liquidity of assets, and the number of new users over time. Yet we are only at the very dawn of starting to explore how many industries can utilize NFTs. 
The massive acceleration during the second half of 2020 with the adoption of many mature use cases and structured projects indicates that its development is about to speed up dramatically. 2021 is poised to be an eventful year as several major realizations about the NFT ecosystem have enabled it to move on to the next level. 
NFTs have opened a new opportunity for the digital economy where virtual assets can be verified and traded in just one click. It is no longer just a speculative industry; it is now a value generation industry. When compared to the traditional market, NFTs market share is still negligible. Yet with the inevitability of the digital revolution, there is little doubt the world of NFTs may soon become mainstream and disruptive to both new and established industries. What remarkable milestones are awaiting the NFT ecosystem in the future? Only time can tell.