After two months of correction, the cryptocurrency market has been bouncing back and more active recently, led by the blockchain gaming trend. After DeFi, blockchain gaming is on its way to be the next big cryptocurrency market trend in the future. 
Let's dive deeper into the blockchain gaming landscape with Kyros in this article.
A signal from the Vietnamese investor community:
According to The Vietnam crypto market report H1.2021 made by Kyros Ventures at the beginning of July 2021, there are three main trends expected by the Vietnamese community:
Blockchain platform

Ethereum and Layer 2

NFT and Blockchain gam

ing
Many investors expect NFT and Blockchain gaming to be one of the key trends in the second half of 2021. In addition, the most expected NFT tokens to rise are game or game-related such as AXS, ALICE, ENJ, SAND, MANA, CHR, FLOW,…
Undoubtedly, the performance of the above tokens is far from the rest of the NFT market in particular and the cryptocurrency market in general.
Axie Infinity is the leading project of the NFT-gaming trend. Let's take a look at the rising of Axie Infinity in the below video produced by Kyros Ventures:
As NFTs continue to grow, so does gaming within this space.

Watch below as it unfolds who takes the lead in NFT gaming, driven by sales volume. #nft #gaming #crypto $AXS $MANA $SAND pic.twitter.com/5NKlrdfGBp

— Kyros Ventures (@KyrosVentures) July 16, 2021
Besides Axie Infinity, many games have received much awareness from the community, such as:
Alien World

Crypto Blade

My DeFi Pet

X World Game
Blockchain gaming ecosystems:
There are many projects on the gaming segment, which are built on various blockchain protocols. However, most of the popular games are built on widespread blockchain such as:
Ethereum

Binance Smart Chain

Polygon

WAX
Ethereum and Binance Smart Chain:
Ethereum is the leading ecosystem from the number of products and capitalization perspective. Some of the most popular blockchain games have been built on Ethereum like:
Axie Infinity

Decentraland

The Sandbox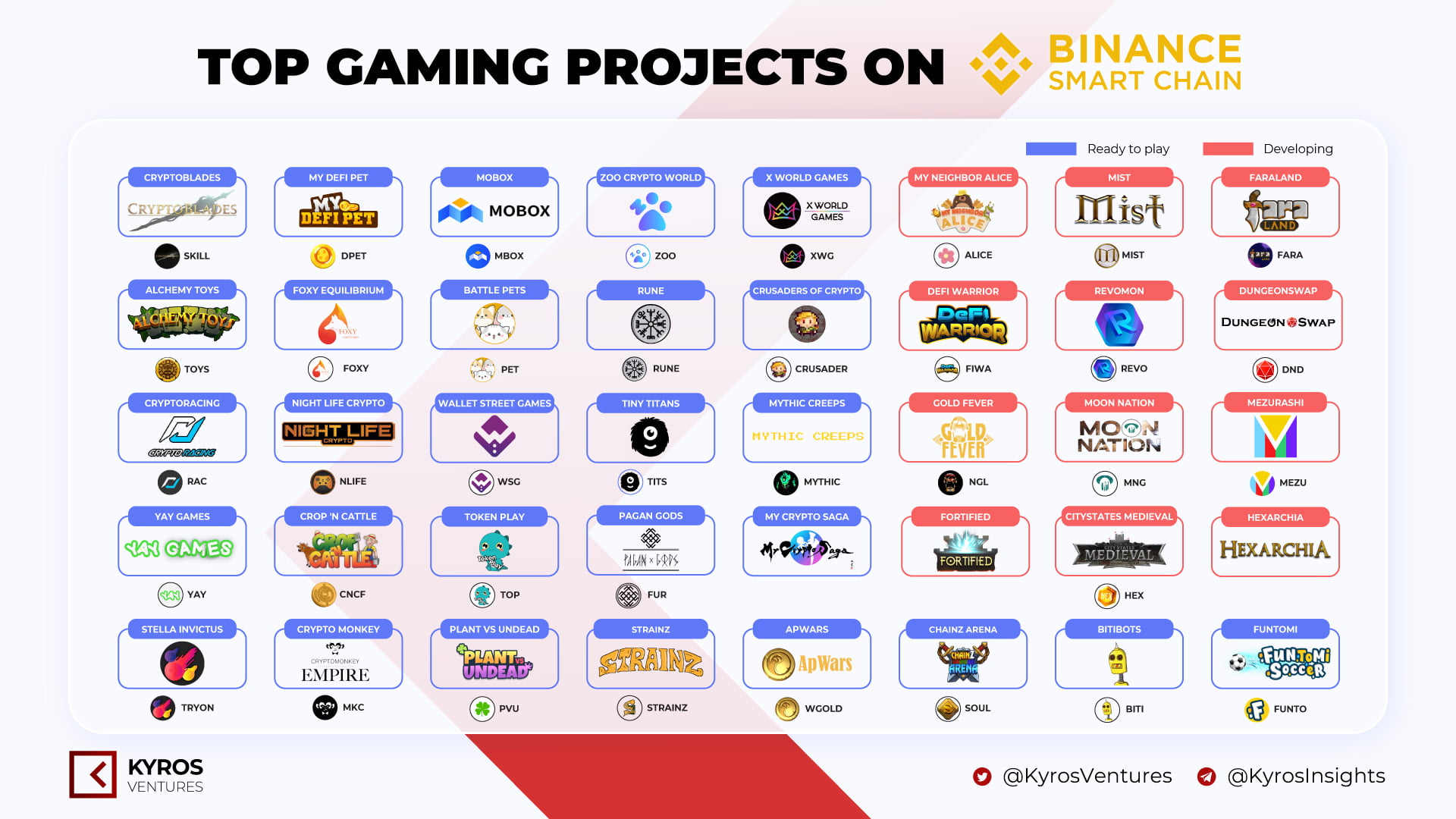 Nonetheless, Binance Smart Chain also shows that it is a robust gaming ecosystem that has the ability to compete with Ethereum. Games on BSC are mainly brand new projects, but they have acquired more users compared to Ethereum.
Crypto Blades has had approximately 700,000 users in the past 30 days (July 9th – August 9th), nearly three times more than the top game on Ethereum, Axie Infinity (according to the data provided by DappRadar).
Polygon and WAX:
Polygon and WAX also have a diversified gaming ecosystem. On top of that, the two's advantage is very low on-chain fees:
Fee on WAX: 0$

Fee on Polygon: 0.0001$
At the moment, Polygon hosts as many NFT gaming projects like Ethereum and BSC, yet its user base couldn't compete with the two juggernauts.
Unlike Ethereum, BSC, and Polygon, WAX is a blockchain protocol focusing on NFT and games with zero blockchain fees. Alien World, built on WAX, owns the most significant number of players in the blockchain gaming space, with nearly 1 million users in the past 30 days.
Enjin:
The ecosystem of Enjin is worth taking a look at because it is a pioneer in the blockchain gaming sector. Completely different from the above ecosystems, Enjin isn't a blockchain protocol having a smart contract but providing a solution to simplify the NFT application for game products instead.
At present, there are a lot of games powered by Enjin.
In addition to the large ecosystems above, several ecosystems in the process of development are also worth noting, such as:
Solana

Flow

ThunderCore

Chromia
Blockchain gaming studios:
Many gaming studios are focusing on blockchain right now, some familiar names such as:
Animoca Brands

Dapper

Lucid Sight

Sky Mavis

Antler Interactive

Everdream Soft

Horizon
Types of games:
Although it has been developed for a short time, blockchain gaming also has diversified types of games:
Sport

Card

Battle Royale

Building

Tower Defense

Action

Turn-based
If you are a blockchain enthusiastic and interested in games, why not try some games below:
Kyros Ventures Team